Our Cryptozoological Expedition into "The Elusive"
The Huckle Buckle Boys
Opening Reception Saturday May 4, 7-10pm

Show runs May 4 - 25, 2013
The infamous Huckle Buckle Boys return to 1975, bringing with them a completely brand new collection of creatures and reports from their latest expedition to "the Elusive."
Below is a timelapse of opening night.
To full experience the exhibition audio tour, please download this free audio tour narrated by the Huckle Buckle Boys. Please click the appropriate link below (hosted on Mediafire) to download to the player of your choice.
M4A Audio Tour (with chapter markers, but no pictures yet)
MP3 Audio Tour (no chapter markers)
MP3 Audio Tour (broken into mp3 tracks)
Rebecca Rafferty at CITY paper wrote a review of the show! Read it here.
thehucklebuckleboys.blogspot.com

RSVP on Facebook: https://www.facebook.com/events/478920585495464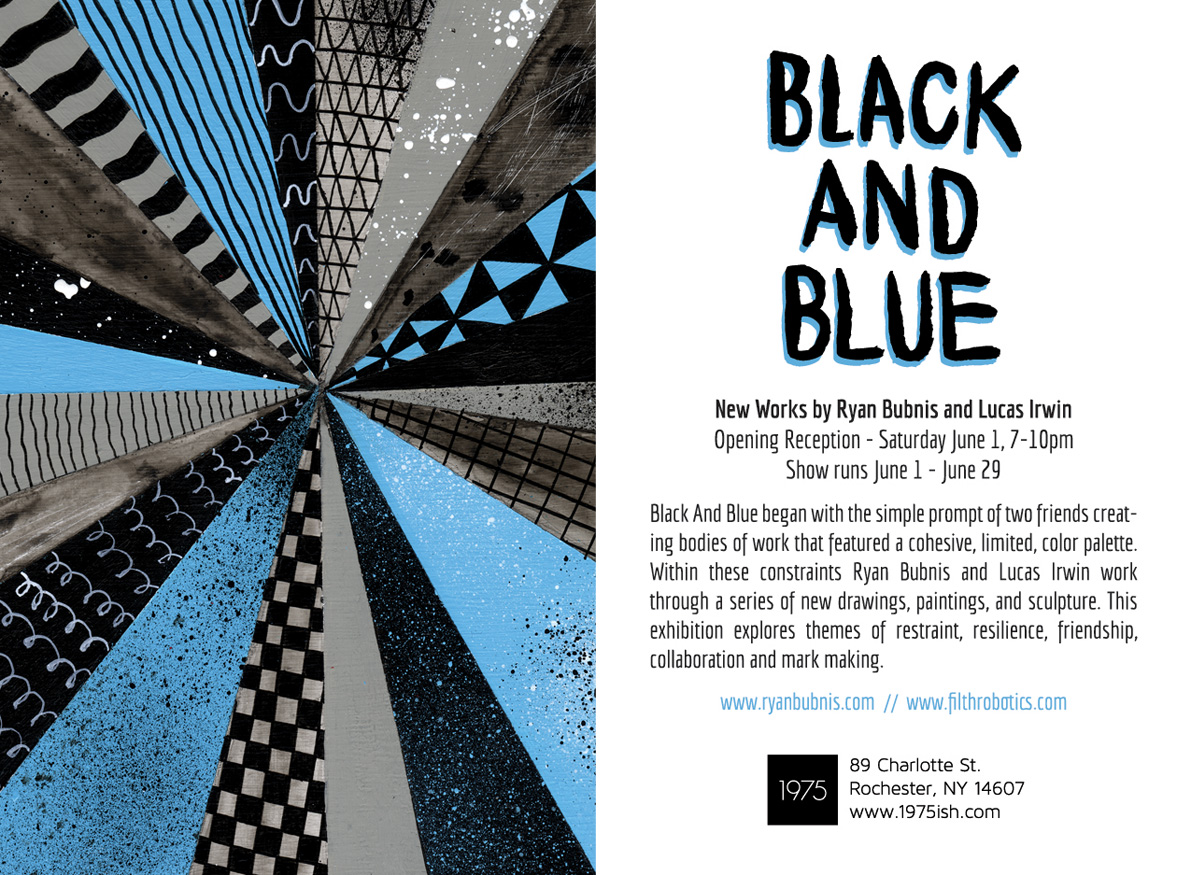 BLACK AND BLUE
Ryan Bubnis and Lucas Irwin
Opening Reception - Saturday June 1, 7-10pm

Show runs June 1 - June 29
Black And Blue began with the simple prompt of two friends creating bodies of work that featured a cohesive, limited, color palette. Within these constraints Ryan Bubnis and Lucas Irwin work through a series of new drawings, paintings and sculpture. This exhibition explores themes of restraint, resilience, friendship, collaboration and mark-making.
ABOUT THE ARTISTS:
Ryan Bubnis' work has been described as "modern folk." Through his paintings, illustrations, design and mural work, he comments on themes relating to the human condition.
Working both traditionally and digitally, he incorporates a range of mediums that include found objects, paper, wood, canvas, aerosol, acrylics, cel vinyl, Papier-Mâché, graphite and India ink. He draws inspiration from life, love, graffiti, folk and outsider art from a variety of cultures.
Bubnis has collaborated with a number of commercial clients and his work has been exhibited in galleries and museums across the U.S. and abroad. He is currently an Assistant Professor at The Pacific Northwest College of Art in Portland, Oregon.

Lucas Irwin is an artist, designer, and maker best known for his work in the world of designer toys and helping to launch the genre-creating, indy DIY Magazine Readymade. Influenced by the urban landscape, architecture, heavy machinery, instructional manuals, schematics, and popular culture, Lucas builds complex images by weaving together and dissecting these references. His work has been exhibited across the U.S., U.K., and Japan.

RSVP on Facebook: https://www.facebook.com/events/251043175041334
+++
As for this site . . . I'm still working on it. Thanks for your patience!.

In the meantime, you can follow what we are up to on Facebook, Twitter, Instagram, or come visit us at our new home! 89 Charlotte St. Rochester, NY 14607. The Google map street view is at least a year out of date, but we are in the green cinderblook building just behind Restuarant 2Vine at the corner of Charlotte and Pitkin.
Our hours are:
Wednesday through Friday 12pm - 8pm
Saturday 12-5pm
Sunday 12-5pm

Or by appointment: 585.428.4278

+++
Our previous show was 1975 IS HAUNTED, which ran October 20 - November 17, 2012. This is the four year anniversary of 1975! You can check out the show via the links below:
Opening Night Photos:
https://www.facebook.com/media/set/?set=a.493478504019961.112319.193243744043440&type=1
Opening Night Timelapse:
http://vimeo.com/52263787
Full Artwork Overview:
https://www.facebook.com/media/set/?set=a.10151186804019463.466560.27318694462&type=3
Artwork available in our Online Store:
http://1975ish.bigcartel.com/category/haunted
###
JULY 22, 2012
This Summer Rochester got some WALL\THERAPY!
Below is a map of the murals, and you can learn more at www.wall-therapy.com.