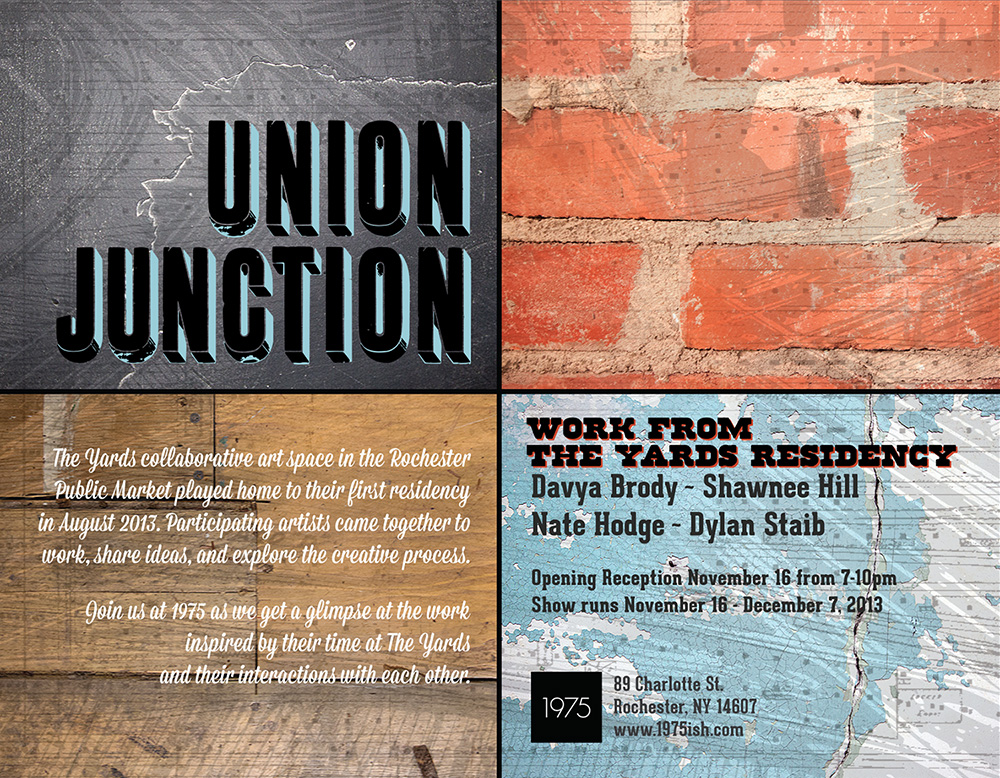 Last August, The Yards played home to their first residency, where artists came together to work, share ideas, and explore the creative process. This show will feature works by Davya Brody, Shawnee Hill, Nate Hodge, and Dylan Staib.
Join us November 16 at 1975 as we get a glimpse at the work inspired by their time at the Yards and their interactions with each other.
Opening Reception November 16 from 7-10pm
Show runs November 16 - December 7, 2013
+++

View WALL\THERAPY 2013 Locations in a larger map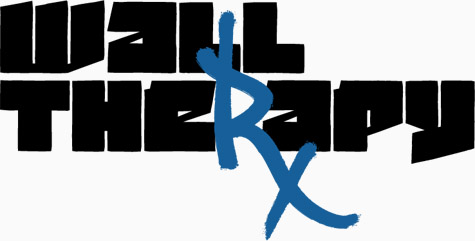 It's that time of year! WALL\THERAPY runs July 19 - 28, with a kickoff at 1975 on July 19th from 7-10pm!
We'll all be quite busy during the week, so we suggest following us on Facebook, Twitter, and Instagram to get the latest updates!

www.facebook.com/walltherapyny
twitter.com/walltherapyny
instagram.com/walltherapyny


PREVIOUS SHOWS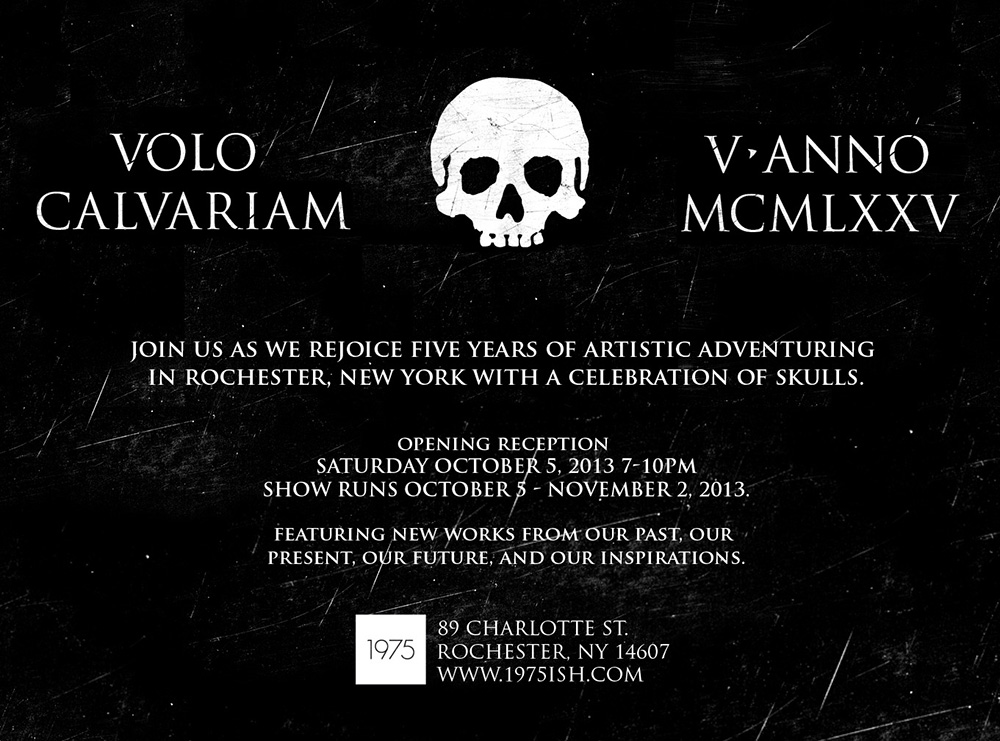 Opening Reception Saturday October 5, 2013 7-10pm
Show runs October 5 - November 2, 2013.

Join us as we rejoice five years of artistic adventuring in Rochester, NY with a celebration of skulls! Featuring one of our most diverse lineups yet with new works from our past, our present, our future, and our inspirations.
Joseph Allgeier / Anthony Bacchiocchi / Carla Bartow / Jolene Beckman / Paul Beresniewicz / Bile / Davya Brody / Ryan Bubnis / Vivianna Calabria-Bacchiocchi / Miguel Cardona / Michael Carnrike / John Magnus Champlin / CHANGE / Sean Chilson / Jennifer Cichello / Adrien Moses Clark / Amanda B. Clarke / Vincent Comparetto / Daniel Dienelt / Johnny Dismal / Joel Dow / Rachel Dow / Mike Egan / Brian Flynn / Adam Francey / Goatmouth / Chris Hargrave / Shawnee Hill / The Huckle Buckle Boys / Justyn Iannucci / Lucas Irwin / Kristina Kaiser / Jes Karakashian / Max Kauffman / Dave Kinsey / Ashley Jean Landon / Peter Lazarski / Erich S. Lehman / Mike Ming / Adam Maida / Jaime Molina / John Perry / Mr. Prvrt / Rebecca Rafferty / Matthew Roberts / Beatrix Rose / Ben Rubin / Sarah C. Rutherford / Dan Springer / St. Monci / Samantha Stumpf / Deth P. Sun / Lea Rizzo / Siloette / Thievin' Stephen / Beth Sumner / Mike Turzanski / Greogry Van Maanan / Steven Vogel / Christopher Walkenhorst / Arden Zollweg

*Artist lineup subject to change
RSVP on Facebook: https://www.facebook.com/events/187323931449344/
Join us afterwards at Cure in the Rochester Public Market for some tunes and skull-themed drink specials created just for this occasion!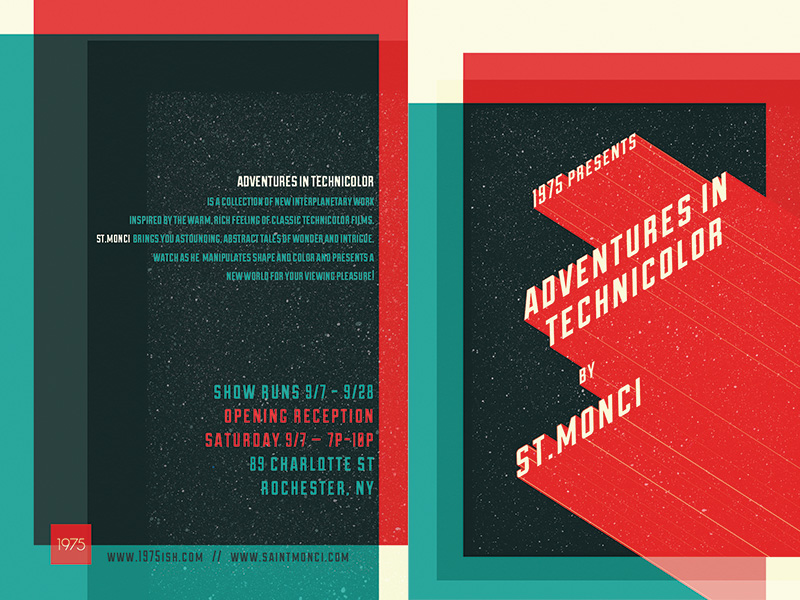 ADVENTURES IN TECHNICOLOR by St. Monci
Opening Reception - Saturday September 7, 7-10pm

Show runs September 7 - 28
Thank you for the AMAZING response to the truly stellar body of work! We are proud to have presented St. Monci's first solo exhibition with 1975! Fresh off a FANTASTIC mural in this year's WALL\THERAPY, St. Monci brings a new body of work exclusive to this show.
Adventures in Technicolor is a collection of new interplanetary work inspired by the warm, rich feeling of classic technicolor films. St. Monci brings you astounding, abstract tales of wonder and intrigue!Watch as he manipulates shape and color and presents a new world for your viewing pleasure!
www.saintmonci.com
https://www.facebook.com/events/244744062340778/
St. Monci's WALL\THERAPY mural at South Ave and Gregory St.
+++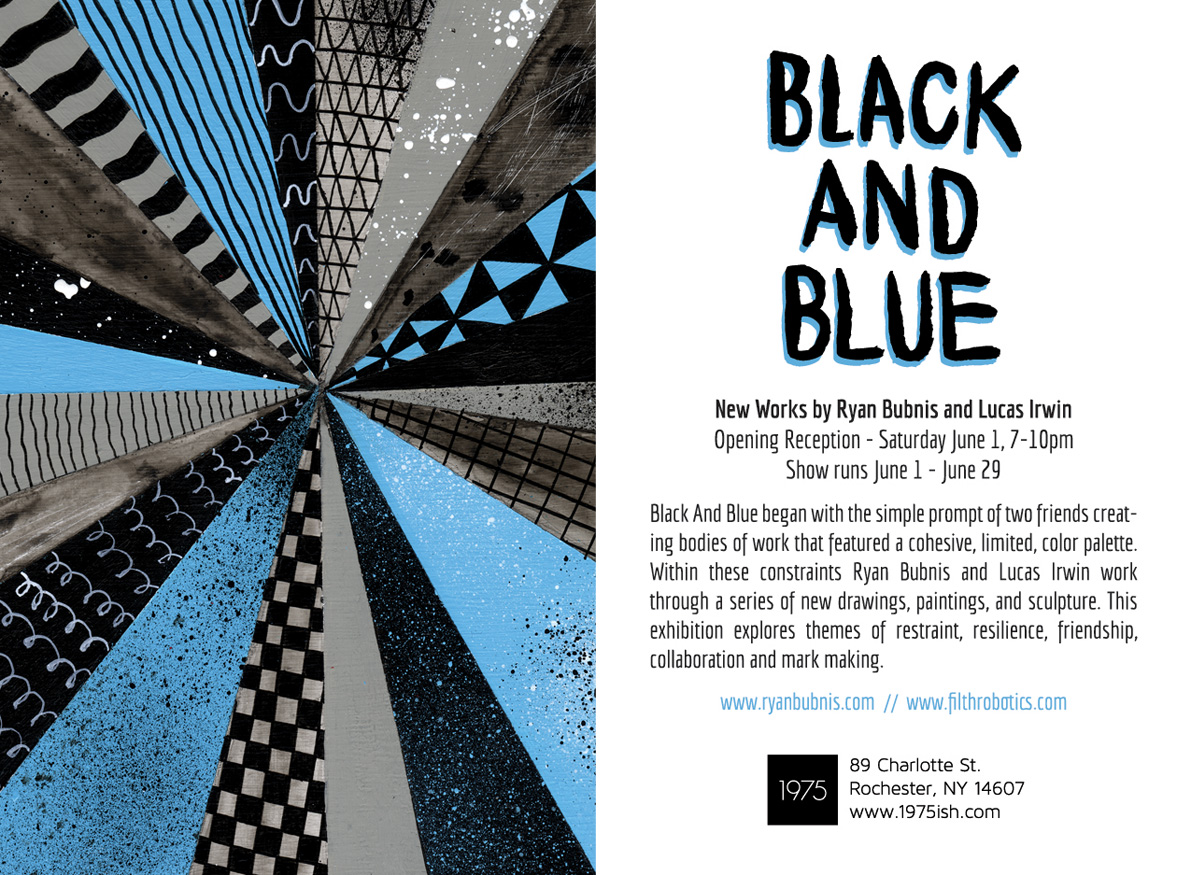 BLACK AND BLUE
Ryan Bubnis and Lucas Irwin
Opening Reception - Saturday June 1, 7-10pm

Show runs June 1 - June 29
Black And Blue began with the simple prompt of two friends creating bodies of work that featured a cohesive, limited, color palette. Within these constraints Ryan Bubnis and Lucas Irwin work through a series of new drawings, paintings and sculpture. This exhibition explores themes of restraint, resilience, friendship, collaboration and mark-making.
ABOUT THE ARTISTS:
Ryan Bubnis' work has been described as "modern folk." Through his paintings, illustrations, design and mural work, he comments on themes relating to the human condition.
Working both traditionally and digitally, he incorporates a range of mediums that include found objects, paper, wood, canvas, aerosol, acrylics, cel vinyl, Papier-Mâché, graphite and India ink. He draws inspiration from life, love, graffiti, folk and outsider art from a variety of cultures.
Bubnis has collaborated with a number of commercial clients and his work has been exhibited in galleries and museums across the U.S. and abroad. He is currently an Assistant Professor at The Pacific Northwest College of Art in Portland, Oregon.

Lucas Irwin is an artist, designer, and maker best known for his work in the world of designer toys and helping to launch the genre-creating, indy DIY Magazine Readymade. Influenced by the urban landscape, architecture, heavy machinery, instructional manuals, schematics, and popular culture, Lucas builds complex images by weaving together and dissecting these references. His work has been exhibited across the U.S., U.K., and Japan.

RSVP on Facebook: https://www.facebook.com/events/251043175041334
+++
The Huckle Buckle Boys show is down now, but the Audio tour is still up!
To full experience the exhibition audio tour, please download this free audio tour narrated by the Huckle Buckle Boys. Please click the appropriate link below (hosted on Mediafire) to download to the player of your choice, then visit our Facebook page to follow along with our gallery of their artwork

M4A Audio Tour (with chapter markers, but no pictures yet)
MP3 Audio Tour (no chapter markers)
MP3 Audio Tour (broken into mp3 tracks)
Rebecca Rafferty at CITY paper wrote a review of the show: Read it here.
thehucklebuckleboys.blogspot.com


+++
SITE UPDATE: Progress is delayed due to how busy we are (and working on the site inhouse), so the new goal is to have everything ready to rock by our five year anniversary. Thank you for hanging in there!

In the meantime, you can follow what we are up to on Facebook, Twitter, Instagram, or come visit us at our new home! 89 Charlotte St. Rochester, NY 14607. The Google map street view is at least a year out of date, but we are in the green cinderblook building just behind Restuarant 2Vine at the corner of Charlotte and Pitkin.
Our hours are:
Wednesday through Friday 12pm - 8pm
Saturday 12-5pm
Sunday 12-5pm

Or by appointment: 585.428.4278